Cochlear Implants Change A Life
My patient met me at the door of his hospital suite and immediately began showing me his cochlear implant.  Having a mother who is almost totally deaf I was immediately interested in what he had to say.  He described his cochlear implant experience as a miracle in his life.  He said plainly, cochlear implants are a miracle for those of us who are deaf.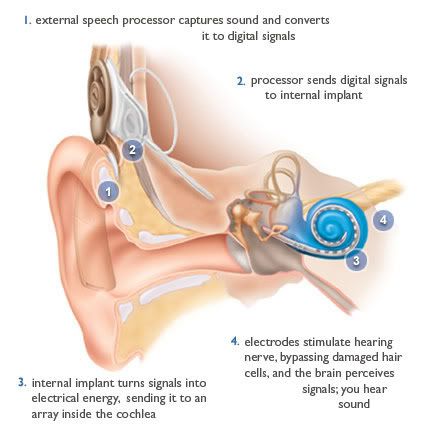 This dear man was such a delight and very enthusiastic about this miraculous device.  He told me that his hearing loss was gradual until one day he got up and looked at his wife.  He said her lips were moving and no sound came out of her mouth.  He had sought information on cochlear implants prior to this time but had been told he did not qualify because his hearing loss was not severe enough.  On this day, he knew he was ready.  He knew he would qualify and so he did.
This man had lost all but 10% of his hearing over the years.  His hearing aids no longer worked for him.  He was living in a world of stone-cold silence.  He told me that it was devastating and lonely.  After his implant his hearing returned to 90%.  That is indeed a miracle!
Below is a video of a 29-year-old hearing for the first time in her life after having cochlear implants placed. The impact is clear, cochlear implants are a miracle for this deaf girl.

What Are Cochlear Implants
Cochlear implants are an electronic hearing mechanism that produces useful to a person who has severe to complete nerve related deafness. The implant electrically stimulates the nerves inside the ear.
Cochlear implants come in two parts.  There is a surgically implanted receiver made up of an electronic circuit that receives signals from the external ear piece and send them to the inner ear. The second part is the external processor which has a microphone that picks up the sound and transmits it to the implant which then sends the sound to the middle ear.  Both pieces have magnet in them so when you place the processor in your ear there is a button shaped wheel that attaches magnetically to your head.
Cochlear implants do not make sound louder, as with hearing aids.  Instead, the implant bypasses the damaged auditory system and specifically stimulates the hearing nerve.  This allows people who are completely dear to hear sound, some for the very first time.
Cochlear implants area miracle for the deaf!
Who Qualifies For Cochlear Implants
These devices are meant for people with the most severe nerve related hearing losses. They are made for people for which hearing aids are not effective or not an option to restore hearing.
People who do not have mastoid bone deterioration or structural inner ear damage.
People who are surgical candidates.
How Effective Are Cochlear Implants?
How effective cochlear implants are depends on many factors including how severe the hearing loss is, the age of the patient, if the patient has ever heard speech before, what the cause of the hearing loss is , how long the patient has been deaf and many other factors.
It is important to have a realistic expectation of the outcome of this surgery.  People who have been deaf for a long time have lost the function in the brain that recognizes the hearing sense.  So, when people first get their implant they often have a difficult time interpreting sound, direction of sound and quality sound.  Most people complain of the sound having a mechanical quality to it.  Furthermore, some recipients only get enough sound restoration to aid them with lip-reading.
After receiving cochlear implants most people receive therapy to re-learn how to hear.  After several months of therapy the patient is able to recognize and interpret sounds at a higher level.
Having said all of that, many people have a great out come with a large increase in the percentage of hearing as well as the quality.  Even small hearing gains can be life altering and an incredible improvement in the quality of life of an individual.  That is because cochlear implants are a miracle for the deaf!
Do you have , or know of someone with cochlear implants?  We would love to hear your story.